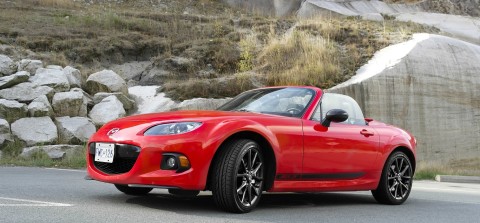 Big horse power, roaring engines and third gear burnouts!  These are the most comment variables in  weighing out the thrill factor of a sports car.    Throw the Miata on the scale and it barely tips the needle.  How does such a mundane piece of machinery deemed sports car earn its racing stripes throughout two decades worth of automotive history?  Well, how about adding in exceptional handling, and the raw mechanical precision control into the equation.  Only then, will you realize that it's not the speed, but the technicality of driving that makes driving the Miata hella' fun!
Cornering through the Whistler Sea to Sky highway immediately reveals its near perfect weight balance and feather weight at 2600 lbs.  On or off the track, the double wishbone and multi-link suspensions provide excellent traction when cornering as well as comfort for everyday driving with minimal tire noise.  Power steering is also very sharp and precise with excellent road feedback.
All models (GX, GS, GT) share the same inline 2.0 liter 4 cylinder engine producing 167 hp and 140 ft.lbs of torques.  These numbers provide decent acceleration, but the Miata has always been focused around maintaining speed around corners.  Mazda has always been renowned for its buttery smooth and robust gearbox, and the Miata brings the best out of this statement.  The attenuated engine power doesn't give you that neck snapping effect.  Instead, it returns an exhilarating driving experience by forcing you to work through all 6 gears in the transmission to build and maintain speed.
Mazda's lower Miata GX model comes equipped with a manually retractable soft top while the upper GS and GT model come with a power retractable hard top (PRHT) with the opening and closing rooftop ceremony lasting for about 12 – 14 seconds by a push of a button.
Popping the top off the Miata immediately dampens all engine noise and vibration, giving off the sensation of floating on a cloud.  There is also minimal wind shear and noise, making the Miata very comfortable to drive with the top off, even at higher speeds.  Unlike other convertibles that can give you headaches from excessive forehead wind shear collision, the seats on the Miata were low enough to eliminate this effect, but driving the Miata for prolonged periods of time lead to lower back fatigue.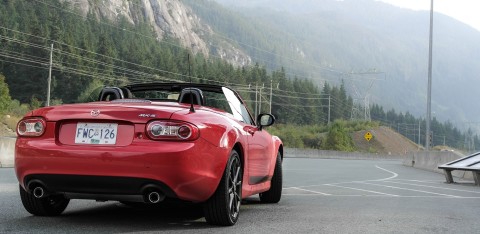 Interior cabin space is as plain as it gets.  Throw and ordinary Joe blow into the 2013 Miata and pull off the blind fold.  He or she probably wouldn't be able to distinguish another car back in the 90′s.  Apart from a solid steering wheel and gear shift lever leather feel, the rest of the cabin space is cheap with zero intentions for eye candy.  At an MSRP of $36,045 for the GS model, we were disappointed by the cheap sticker plastered on the panel above the glove box compartment.  All center console buttons and displays are rudimentary with no option for an infotainment system.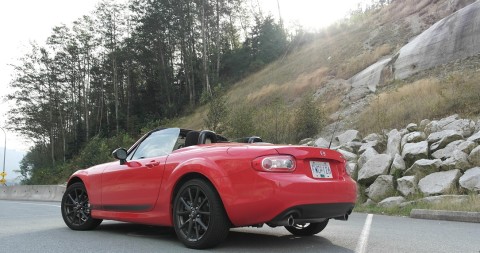 In terms of price, it's a bit steep.  The GX model with a soft top starts at an MSRP of $29,250.  If you want a power retractable hard top only available on the GS and GX models, it will cost you $36,045 and $40,250 respectively.  Speaking in terms of the GS model – that's lot of money especially for a cheap and minimal interior built up from the spare parts bin left over from a decade ago.  There really isn't much else to show off in terms of what you see.  However, what you do get for your money is a convertible and a harmonized bio-mechanical driving experience.